Championing What Matters to You - Annual Report 2021-22
Championing What Matters to You showcases how we've been making a difference during a challenging year.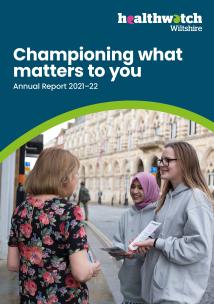 It's been another challenging year dominated by the consequences of Covid-19 but Healthwatch Wiltshire has continued to be your champion for health and social care services and make sure your voice is heard by those who plan and run services. 
Sharing your feedback really does make a difference – not only have we been able to make 78 recommendations to services for improvements, we're delighted to see that changes are being made thanks to what you told us, such as at the Great Western Hospital in Swindon, at the new Devizes Health Centre and in the development of local mental health services. 
But as ever the work doesn't stop there. We'll be looking at how our survey, which gathered the views of patients and staff on access to GP services during Covid-19, will bring about improvements to services across the south of England in 2022 and beyond. 
With the introduction of the new Integrated Care System in 2022, there are lots of changes expected within the health and care system and we want to make sure that local people continue to play a key role in helping to shape services.