Working Together to Improve Dementia Services in Wiltshire
Over the last four years we have been talking to people with dementia and their carers and have gathered over 1,600 views and experiences about different aspects of dementia.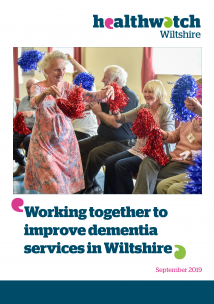 This report shows how we have used the views and experiences that have been shared with us. It describes how organisations have worked together to improve dementia services in Wiltshire and the impact of this for people living with dementia and their carers.
Some of this work was carried out under Healthwatch Wiltshire's previous provider, Evolving Communities.
What people told us
People told us that training care home staff to a high standard was very important in order to provide good quality care for people with dementia and complex needs.
People also said that they thought specialist services for people living with dementia were high quality but that they weren't always able to access them.
What we did
We highlighted the concerns about the training of care home staff to Wiltshire Council and Wiltshire Clinical Commissioning Group, who commissioned specialist dementia training for care home staff.
This training was coordinated by Wiltshire Care Partnership and Wiltshire and Swindon Care Skills Partnership, who support providers of residential, nursing and domiciliary care for older people and adults with disabilities. Their training courses were attended by 111 care home managers.
Meanwhile, we worked with Alzheimer's Support, who provide dementia community services in Wiltshire, to identify areas of the county where there was a lack of groups, the types of groups people wanted and what they valued most from these groups.