Our Annual Report 2019-20
Guided by You showcases how we've made a difference to your community and how we've helped you find the answers you need.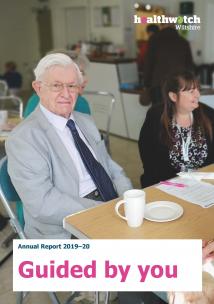 Highlights from our year
It's been a busy and varied year for us.
This year saw the conclusion of four years of work focusing on dementia and we looked at the impact of this. Thanks to the comments of 1,600 people living with dementia and their carers, we are very proud to have played a part in work that has seen the introduction of 40 new community support groups and the rollout of specialist dementia training in care homes.
We were pleased to have supported five excellent health and wellbeing projects through our Community Cash Fund scheme, and see how they have benefited and supported people with a variety of needs.
And, for the first time, our research team of volunteers have carried out their own project into how military families are accessing health and care services, following a large army rebasing programme last summer, which saw thousands of army personnel relocate to Wiltshire.
While the coronavirus pandemic has forced us to adapt our ways of working, we will continue to listen to people's experiences of how the outbreak has affected them and channel some of this feedback into our work for the coming year.