Changes to Covid community testing in Wiltshire
Wiltshire Council announces changes to testing sites from 31 March.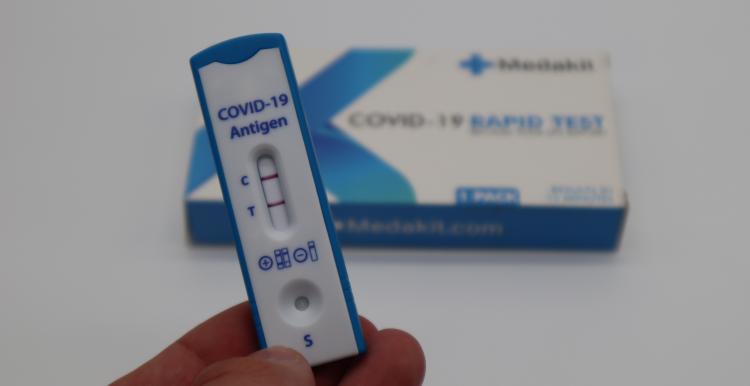 Community Covid-19 testing sites, offering lateral flow tests to people who do not have symptoms of the virus, are to close at County Hall, Trowbridge; Monkton Park, Chippenham and Five Rivers Health and Wellbeing Centre in Salisbury from 31 March. 
They will be replaced by a collection service for test kits which can then be done at home. Sites currently offering this collection service include:
Devizes Leisure Centre
The reception at Monkton Park in Chippenham
The reception at Bourne Hill in Salisbury
From 14 April:
Springfield Community Campus, Corsham
Calne Leisure Centre
The Vale Community Campus, Pewsey
Nadder Centre, Tisbury
Test kits can also be collected from the main Covid test sites - Beehive in Salisbury and the Greyhound in Trowbridge.
You can collect lateral flow tests at the collection sites without booking. They are available from 9am-4pm. 
In-person asymptomatic testing will still be available at the busiest and most central site, Devizes Leisure Centre, and can be booked online.
Wiltshire Council will be setting up more collection sites in due course, with further details to be announced. 
Many of the lateral flow test collection sites around the county can be found on this map: NHS Rapid lateral flow test sites and collection sites.
If you can't travel to a collection site, you can order test kits online from the Government website.
One in three of us don't have symptoms
This type of testing is being rolled out because around one in three people with Covid-19 do not have symptoms (asymptomatic). Rapid lateral flow tests help to find cases in people who may have no symptoms but are still infectious and can give the virus to others.
The at-home test kits are intended to be used twice a week and results can be logged online. If you get a positive test result, please book a PCR test to confirm the result by visiting www.gov.uk/get-coronavirus-test
You should report your result every time you take a test, to help prevent and reduce the spread of the virus and to find out if you're infectious, even if you don't have any symptoms. 
Kate Blackburn, Director of Public Health at Wiltshire Council, said:
"Due to the size of our county, the test collection option is much more accessible and convenient for people across Wiltshire, who may struggle to get to the locations for a booked time at our current in-person asymptomatic test sites.

"The collect sites are available to anyone, but we would particularly encourage families with school aged children and their bubbles to collect tests, in line with national guidance. School children, college students, and staff should continue to be tested at school or college.

"We would also remind people that a negative lateral flow test does not guarantee that someone is not infected, and people should still continue to follow the guidance about distancing, wearing a face mask where required, and regular hand washing."
Find out more
For the latest information on asymptomatic testing and Wiltshire Council's collection sites, visit www.wiltshire.gov.uk/public-health-coronavirus-testing.
People can call the 119 helpline if they need any support including translation services, or for any assistance with registering their test or reporting results.
If you have symptoms of Covid-19
Free testing continues to be available to everyone in Wiltshire who has Covid-19 symptoms – high temperature, continuous cough or loss of/change in taste or smell.
Visit www.nhs.uk/coronavirus or call 119 to book a test.