All coronavirus vaccine centres now open in BaNES, Swindon and Wiltshire
As all community vaccine sites open, health leaders urge people not yet contacted to wait to be called.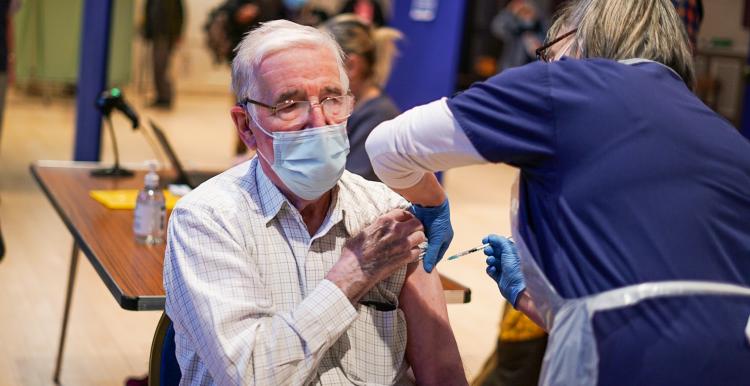 All GP-led, community-based coronavirus vaccination sites in Bath and North East Somerset, Swindon and Wiltshire have now opened their doors, meaning all people in the region aged 80 or over will soon be invited to receive the Covid-19 vaccine, if they have not already.
There are currently 19 vaccination sites in operation across the area, with each one responsible for providing the vaccine to patients registered at GP practices within the local community.
Salisbury Cathedral became the latest sites to open on Saturday 16 January, with the building following in the footsteps of other iconic venues, such as the Steam Museum in Swindon, the Corn Exchange in Devizes and the Pavilion in Bath, being transformed into temporary local vaccine clinics.
The coming weeks will see an escalation of the programme to ensure that every care home resident across the region is vaccinated as quickly as possible.
Gill May, Director of Nursing and Quality for BaNES, Swindon and Wiltshire Clinical Commissioning Group, said:
"Getting all of our GP-led sites open within the first two working weeks of the new year had always been our goal and, although there is still a long way to, we are delighted to be up and running.

"Some people may be anxious about not having been invited to receive their vaccine, but I can reassure them that no person will be missed, so please don't worry as every day we are contacting more and more people to come forward to get the jab.

"We have already given the vaccine to thousands of local people, and these numbers will continue to increase week on week.

"Our number one priority is to ensure the most vulnerable people in our communities are protected, and our primary care teams are currently busy vaccinating residents in care homes.

"With every arm that is jabbed, we are one step closer to returning life to some level of normality."
Some people in the region may have also started to receive letters about arranging a vaccine appointment at the new large-scale NHS Vaccination Centres, based at Ashton Gate Stadium in Bristol, the Bath and West Showground in Shepton Mallet, Taunton Racecourse and the Bournemouth International Centre.
If this is the case, those people can choose to either have their vaccine at these new centres or wait to be invited to a local GP-led site.
People invited to have the vaccine are reminded that the current lockdown guidance does permit friends and family to provide lifts to and from the vaccination sites.
Please arrive only five minutes before your appointment time to reduce congestion and queuing.
More information about the vaccination programme in the local area can be found online by visiting www.bswccg.nhs.uk.
You can also get more information about the Covid-19 vaccine on the NHS website.
Vaccination sites now open
The following vaccine sites have been in operation since December:
Steam Museum, Swindon (Brunel Healthcare Group)
Corn Exchange, Devizes
Rowden Surgery, Chippenham
Combe Down Surgery, near Bath
The White Horse Health Centre, Westbury
Ramsbury Surgery, Marlborough
Spencer Sport and Social Club, Melksham
The following sites have opened since 4 January 2021:
Wingfield Surgery, Trowbridge
Michael Herbert Centre, Wilton
Tidworth Leisure Centre, Tidworth
Malmesbury Primary Care Centre, Malmesbury
Batheaston Medical Centre, Batheaston
Somer Centre, Midsomer Norton
Northlands Surgery, Calne
Pavilion, Bath
The following sites have opened since 11 January 2021:
 Larkhill Medical Centre, Larkhill
Salisbury Cathedral, Salisbury
West View Surgery, Keynsham
Steam Museum, Swindon (Wyvern Health Partnership)
Pewsey Surgery, Pewsey
Share your views on changes to services
Since March 2020, NHS and social care services have had to change the way they work to meet coronavirus safety guidelines, while voluntary and community groups have stepped up their support to help local people through the pandemic.
We want to understand how these changes have been working for you, what's been good and what could be better.