Quarterly Report July-September 2021
Highlights of our work from July to September 2021.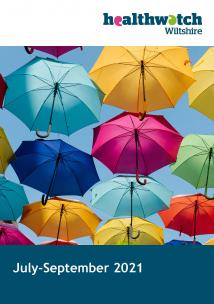 In this quarter:
We launched surveys looking at LGBTQ+ services for young people and Medequip's community equipment service.
We revealed the winners of our Community Cash Fund scheme.
We published two reports highlighting people's experiences of the Covid-19 pandemic. 
We published our Future of mental health support report based on feedback from a series of online workshops with local people. 
We carried out virtual and face to face visits to the Emergency Department and wards at Great Western Hospital in Swindon.