Experiences of using Bluebell Place of Safety
This report looks at people's experiences of being taken to and using the Bluebell Unit — a health-based Place of Safety in Devizes — during the Covid-19 pandemic.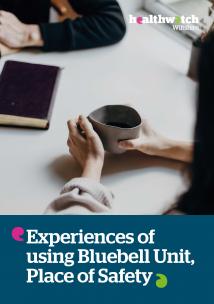 The Bluebell Unit is a place where people can be taken if they are in extreme mental distress and need to be detained for their own safety and that of others.
Working with BaNES Swindon and Wiltshire Clinical Commissioning Group (BSW CCG) and Avon and Wiltshire Mental Health Partnership NHS Trust (AWP) we conducted 32 in-depth telephone interviews with people who had been taken to the Place of Safety. 
Our questions asked people to reflect on what happened before being taken to the Place of Safety, what they thought might have prevented them needing to be taken there, and whether they thought being taken there had been an appropriate course of action. 
Key findings
Most of those we spoke to were pleased to be asked for their views, and gave open, detailed accounts that strongly conveyed valuable insights into their experiences.

Over 50% of those we spoke to said they had asked for help prior to going to the Place of Safety and mentioned difficulties accessing the right support.
The experience of being detained and taken to the Place of Safety could be very traumatic for some people and they reported this had a lasting impact. Equally, some recalled the patience and kindness of police and ambulance workers.
Quality of care at the Place of safety was rated highly by most people. There were many positive comments about the approach of staff who worked there.
Most people reported that they understood their mental health assessment and its outcomes, although not everyone agreed with these.
Our participants identified some things that could be improved. These mostly concerned the physical environment and facilities there.
On reflection, most of those we spoke to thought that, in the circumstances, being taken to the Place of Safety was the right course of action.
Transport and onward transfer from the Place of Safety worked well for most. In a few cases where it had not worked well, people felt this presented potential risks.
Conclusions and recommendations
The report concludes that most people we spoke to felt that Bluebell Place of Safety provided a caring and appropriate environment for them, at a time when they were in crisis.
Although situations are clearly complex, our findings suggest there may be instances where the need for people to be taken there could be avoided, with more responsive and appropriate support in crisis situations.
This report makes nine recommendations which are based on what people who had used the service told us.
Thank you to the team for giving a voice to people whose opinions are not often heard in a format which has the potential to improve the wellbeing of people in crisis/extreme distress.