Community Cash Fund Projects 2019-20
In February 2019, we launched a Community Cash Fund scheme to enable local groups to apply for a grant to start health and wellbeing projects in their local community.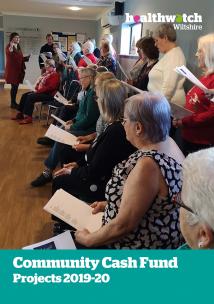 We were delighted to receive 41 applications for funds of up to £2,000, and five projects were chosen to receive a grant. 
  
As well as encouraging healthier lifestyles, these projects also provided a way for us to get more feedback on local services from people we might not otherwise hear from, and during 2019/20 we collected many valuable insights from people who took part.
All five of the projects have demonstrated real benefits to those who took part and we're pleased that two have been able to secure additional funding to continue their work.
The projects were:
Spark Festival of Wellbeing
Happy Hearts Dance Project
Wellbeing at the Orchard
Singing for Lung Health Choir
Any Body Can Cook