Covid-19 Insight Report 1-28 June 2020
What we're hearing from you during the Covid-19 outbreak.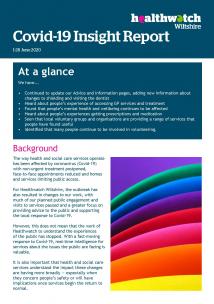 Our Covid-19 Insight Report details what we're hearing from you and provides a snapshot of what work is being done by services in response to the pandemic. 
These reports will be produced every fortnight and will be shared with the local NHS, council and service providers, so they can hear where things are working well and identify any gaps. 
At a glance
We have...
Continued to update our Advice and Information pages, adding new information about changes to shielding and visiting the dentist
Heard about people's experience of accessing GP services and treatment
Found that people's mental health and wellbeing continues to be affected
Heard about people's experiences getting prescriptions and medication
Seen that local voluntary groups and organisations are providing a range of services that people have found useful
Identified that many people continue to be involved in volunteering.