Covid-19 Insight Report 4-17 May 2020
What we're hearing from you during the Covid-19 outbreak.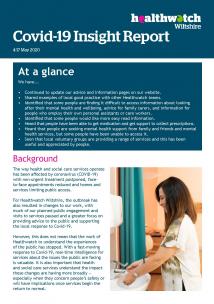 Our Covid-19 Insight Report details what we're hearing from you and provides a snapshot of what work is being done by services in response to the pandemic. 
These reports will be produced every fortnight and will be shared with the local NHS, council and service providers, so they can hear where things are working well and identify any gaps. 
At a glance
We have...
Continued to update our advice and information pages on our website.
Shared examples of local good practice with other Healthwatch teams.
Identified that some people are finding it difficult to access information about looking after their mental health and wellbeing, advice for family carers, and information for people who employ their own personal assistants or care workers.
Identified that some people would like more easy read information.
Heard that people have been able to get medication and get support to collect prescriptions.
Heard that people are seeking mental health support from family and friends and mental health services, but some people have been unable to access it.
Seen that local voluntary groups are providing a range of services and this has been useful and appreciated by people.