Healthwatch Wiltshire wins national award for work with young volunteers
We've earned national recognition for a project which gave hundreds of young people a chance to speak up about their mental health.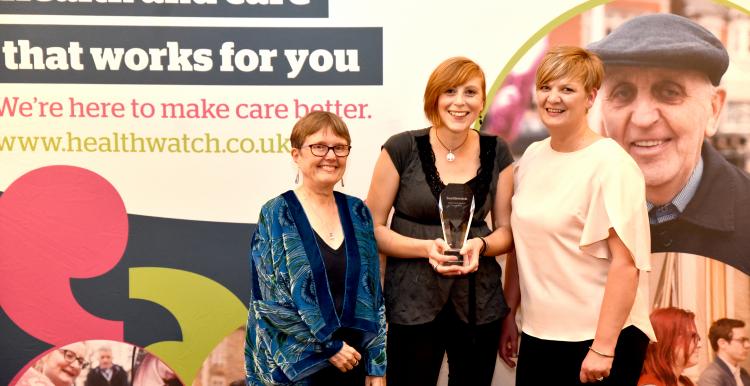 We picked up an award for Volunteering at the Healthwatch England conference in Stratford upon Avon on Wednesday 3 October, an event which brings together Healthwatch teams from across the UK. 
Stacey Plumb, Interim Manager for Healthwatch Wiltshire, said:
"We're over the moon to win this award. We really enjoyed working with the students and would like to thank Youth Action Wiltshire, Community First and all the schools involved for helping us bring this project to life.

"The Young Listeners showed great dedication throughout this project and really listened to what other young people told them. There were also great benefits for the Young Listeners themselves, they learnt a lot and have grown and developed in confidence. 

"The government has committed to spending £1.4 billion in children and young people's mental health services over the next five years and, as more and more children are seeking support for their mental health, we wanted to know what young people want from these services."
In partnership with Youth Action Wiltshire, Community Organisers from Community First and local schools, Healthwatch mentored a group of students, supporting them to learn new skills and build confidence. Some of the students were trained to become Young Listeners, visiting schools and speaking to other students to understand their views on mental health. 
Students taking part in the project told Young Listeners they wanted:
More opportunities to discuss their mental health and wellbeing
Easily accessible and better health and wellbeing support within schools
To be able to talk about their issues without judgement, and be respected by staff and professionals
Shorter waiting times for support. 
I've always wanted to do something that could benefit other people, and I've always wanted to give advice and help and learn new things.
Cleo Evans, from Youth Action Wiltshire, said:
"We are delighted and proud to learn that the YouthWatch Project for Healthwatch Wiltshire has been recognised nationally by Healthwatch England.

"Healthwatch Wiltshire commissioned Community First and Youth Action Wiltshire to deliver a local programme that enabled us to develop and deliver a bespoke youth volunteering project that placed young people at its heart. For young people in Wiltshire, they have been given the opportunity to help shape the future by allowing  young people to take ownership of how they should be supported in schools around their mental health and wellbeing.  

"We have loved working with the young people who are the true heroes of this project." 
The project was undertaken by Healthwatch Wiltshire under our previous provider, Evolving Communities. 
Celebrated every year, the Healthwatch England awards highlight how local Healthwatch across the country haved helped make people's views of health and social care services heard. 
Liz Sayce, award judge and Healthwatch England Committee Member, said:
"Healthwatch Wiltshire have this year demonstrated the real power of peer support. They helped young people who had experienced mental health challenges to grow in confidence through volunteering, learn how to support themselves, and how to help others too."
Find out more about the Young Listeners project in our Reports section.
I wanted to become a Young Listener so I could help young people if they have problems because I might have had some experiences that are close to theirs.