Access to NHS dental care remains a concern for Wiltshire patients
With worries about dental care at a record high, we look at how easy it is for new NHS patients to access treatment in Wiltshire.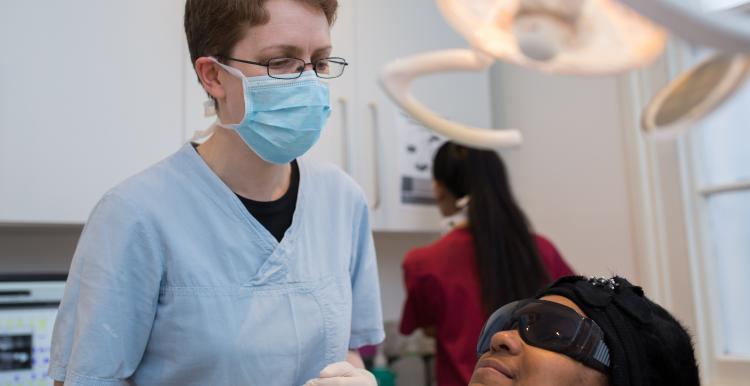 Background
Since 2013, access to NHS dentistry has been one of the recurring issues Healthwatch teams across England have reported on.
In 2016, Healthwatch England's national report found that things had not improved when it came to the information available via the NHS website. The report highlighted a lack of clear, consistent guidance about the dental treatments people can access through the NHS. More local Healthwatch across the country also raised concerns about access.
Healthwatch England published a What are people telling us report in December 2020 as part of its regular updates provided to NHS and social care service leaders about the key issues the public are telling us about.
The report was informed by 38,082 people's experiences of care covering the period July-September 2020 and included a review of dental care access nationally: Dentistry and the Covid-19 Impact. This showed that across England, people could not find an NHS dentist to help them.
The review summed up the situation as it was reported with the following conclusion:
"In the short term, people need immediate access to urgent dental care and clear information about how to obtain this. But to truly address the issues and prevent other parts of the system having to pick up the care, long term, we need to have far better access to routine dental treatments for the public in England."
One year on from this report, we have reviewed access to dentistry for new NHS patients in Wiltshire to understand if there has been any improvement.
What did we do?
For our review, carried out in October 2021, we identified 48 dental practices across Wiltshire. We excluded those which only provide private patient care as these are not relevant to NHS patients, Urgent Care Centres and Dental Access Centres.
A variety of sources were used to identify dental practices including the NHS website, Care Quality Commission (CQC) and Dental Choices.
The NHS website lists practices across postcodes and towns but many of the entries stated that they had not been updated in the last 90 days. These entries were cross-checked against CQC records and Dental Choices. Several of the dental practices listed on the NHS website have changed name but this only became evident after cross-checking or telephone calls. 48 practices were then identified from these lists. 
We then asked three questions:
Are dental practices taking on any new adult NHS patients and what are the waiting times?
Are dental practices taking on any new child NHS patients and what are the waiting times?
How up to date is the NHS website that lists dental practices?
Telephone calls were made to all practices as a mystery shopper mother and young son who had recently moved to the area and were seeking NHS dental treatment.
What did we find out?
The Dental Choices website indicated in August 2021 that three practices in Wiltshire were taking on new child and adult NHS patients.
But telephone calls made directly to identified practices during October 2021 show that one practice in Wiltshire is openly stating that it is taking on both adult and child new NHS patients. Waiting times for treatment were April or May 2022 for the earliest appointment.
Out of the 48 practices identified, 8 practices (16%) across Wiltshire are taking on new NHS child patients, although it has not been possible to get verbal confirmation from one practice that they are still doing this. This means that 6 practices are confirmed as taking on new NHS child patients.
5 of these 8 practices quoted waiting times for NHS child patients as between 6 weeks to 3 months.
Out of the 48 practices identified, 37 (77%) are not up to date on the NHS website in terms of accepting new NHS patients and in several cases, there have been changes of practice name and ownership.
9 of the practices we contacted who said they were not taking any new NHS patients immediately offered private treatment through a discounted payment scheme myOptions, or directly paid private care. This suggests that the dentistry capacity is available but not for NHS treatment.
5 of the practices contacted said they were unable to take on new private or NHS patients as they are so full.
Practices stated they had waiting lists of 18 months or more. One practice stated they have 700 people on their NHS waiting list.
What reasons did dental practices give for not taking on new NHS patients?
The main reasons given by practices were:
A shortage or lack of dentists (either from retirement or leaving the practice).
The practice had reached its NHS contract cap.
The impact of Covid restrictions on their ability to treat as many patients daily as previously, leading to a backlog.
Dental practices were altering their client base and moving to a greater proportion of private patients, or leaving NHS practice altogether.
What's the national picture?
Lack of access to NHS dentistry has intensified as an issue for people over the last 18 months and our project reflects what's been happening across England. 
Healthwatch England's latest findings show that public feedback on NHS dental care has risen five-fold over the last 18 months, compared to pre-pandemic levels. It now accounts for nearly 25% of all the feedback they receive.   
Their analysis of 8,019 people's experiences of NHS dentistry between April 2020 and September 2021 shows that:   
Four in five people report struggling to access NHS dental care, including emergency treatment.   

Positive sentiment, which was around 30%  before the Covid-19 pandemic, is down to its lowest ever level – at just two per cent. 

Some dental practices have either shut down or have gone fully private. Some dentists have used up their total NHS capacity and are asking people for private fees instead.  

Many people find it hard to get up-to-date information about which practices are taking on new patients because NHS and dentists' websites aren't updated regularly. As a result, more people are contacting their local Healthwatch hoping that they'd provide them with accurate information.   

It is often the most vulnerable people in our society, including children, disabled people and those living in care homes, who are suffering the most. 

Parents are struggling to find a practice that would take on children as NHS patients. As a result, children as young as five years old are putting up with painful symptoms.   

Parents are worried about their child's oral health as they cannot get check-ups or preventative treatment.   

Some parents reported that dentists are willing to take on a child as an NHS patient as long as the parent registers as a private patient (though NHS.UK says dentists shouldn't do so). People feel some dental providers are using unfair tactics to increase the number of private patients.   
What happens next?
Healthwatch England is continuing to call on the Government and NHS England to speed up dental contract reform and provide significant and sustained funding to tackle the underlying problems of dental access and affordability.