How to get an NHS dentist appointment during Covid-19
Routine dental care has had to change because of Covid-19, with social distancing rules making it difficult to access services. Here's some information on how to access an NHS dentist now restrictions are eased.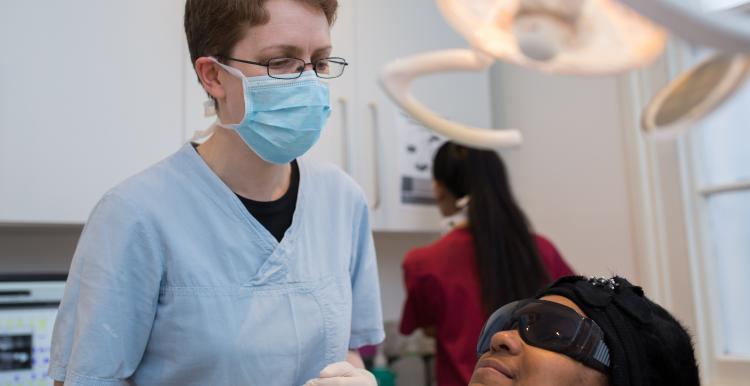 Updated 27 July 2021
From 19 July 2021 restrictions have been removed and dentists are open for routine and urgent treatments, however due to a change in the way they work you may have a longer wait for an appointment if it's not urgent. 
If risk-assessments allow, practices may also resume a full range of domiciliary dental care services (e.g., in people's homes, including residential care homes) 
If you are suffering any symptoms of Covid-19 you should not attend your appointment and phone your dentist to advise them.
How do I find a dentist? 
To get the help you need you can: 
Phone your local dentist to get information about their opening hours and advice on where you can go to get the care you need 
If you don't have a dentist or your dentist is closed, you can phone NHS 111. Translation services are available.  
If you are deaf or hard of hearing visit https://interpreternow.co.uk/nhs111
Do not visit a dentist without an appointment. 
Practices will need to prioritise their patients based upon their needs. The British Dental Association advises:
If you call to make an appointment, you will be asked some screening questions. You'll be asked those same questions again at your appointment 
You will probably be asked to use hand sanitiser or to wash your hands when you arrive (and again before you leave) 
Social distancing measures will be in place in the waiting rooms 
Appointments will be managed to allow for social distancing between patients. That might mean that you're offered fewer options for scheduling your appointment.
I need urgent dental assistance – what can I do? 
For urgent advice on any oral health issue you can call: 
NHS 111 (open 24 hours a day, 7 days a week) 
Call the dental helpline at 01788 539780 (local rate call in the UK) for free and impartial advice between 9am-5pm, Monday to Friday.
Patients without a dentist can contact:
Swindon & Wiltshire
9am-5pm Monday-Friday
Call: 0345 758 1926
Out of Hours (Evenings and Weekends)
Call NHS 111
The dentistry crisis: ensuring everyone has access to an NHS Dentist
In June last year the Healthwatch network had a 450% increase in negative experiences about access to dentistry. So, when the Covid-19 pandemic surfaced, we knew we had to act quickly.
With your feedback we were able to help move dentistry up the agenda over the last year and outline how thousands of people have struggled to access or afford NHS dental care. Our findings helped encourage MPs across the country to raise the issue in Parliament.
Our findings informed MPs across the country to raise the issue in Parliament. This contributed to Minister Jo Churchill committing to draw up reform plans by April 2022. In the meantime, NHS England and Department of Health and Social Care wrote to all dentists to update information about the care available on the NHS website, following one of our recommendations.
We've also made sure the issue has been raised repeatedly through an array of parliamentary interventions and media headlines.
Thanks to your help, we will continue to fight for access for an NHS dentistry for everyone.
Change takes time to happen but with your help we will continue shining a light on the issues that matter to you. 
Whether good or bad, it's really is important that you share your experiences with us. Remember, your feedback is helping to improve people's lives. So, if you're ready to tell your story – we're here to listen.